Most of the Internet users in homes and offices are not power users. Hence they don't know much about Internet connection and configuration. If anything goes wrong, they almost always have to call tech support in order to sort out even the basic Internet connectivity problems. In Windows 7, Microsoft has included a troubleshooter which can successfully fix most of the problem but the issue is that it also needs manual operations in order to run it.
Connectivity Fixer is a free Windows software that can repair the Internet connection problems automatically. It keeps on running silently in the background monitoring the Internet connection. If it finds any Internet disconnection, it will automatically try to fix the problem. Most common problems about IP and Winsock issues are fixed automatically by Connectivity Fixer. Here's a two minute video about Connectivity Fixer.
httpv://www.youtube.com/watch?v=puPHH60LToI
Connectivity Fixer comes with a very simple interface. There are only two buttons on the main screen. Fix Now will trigger the Connectivity Fixer fixes manually. Monitoring button will start monitoring the Internet connection for any potential issues.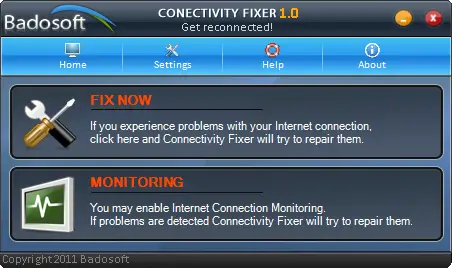 You can also configure Connectivity Fixer to start with Windows and automatically start monitoring the Internet connection. By default the program will notify you when it detects any issue. You can configure it to try fixing the detected problem automatically. The software is compatible with Windows XP, Windows Vista and Windows 7.