Online community bounds you in relationship with friends, colleagues and client across the globe. This arises the need of knowing the time in different countries and time zones. In this article, we will see how to install multiple clocks in the system tray in Windows. We will then go ahead to put those clocks to our desktop.
Show more clocks in system tray
You can add multiple clocks to your system tray to stay updated with the time in different time zones. By default, you can add two more clocks to your system other than the local clock. This trick was used in earlier versions of Windows and it stays valid for windows 7 and Windows 8 too.
Click on the 'Date and Time' in system tray.
Select 'Change date and time settings'.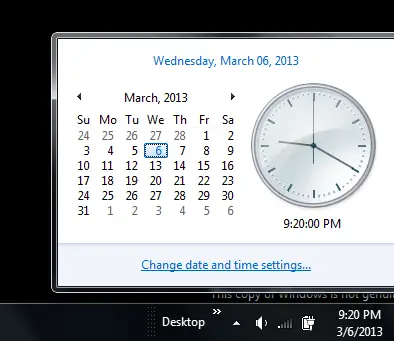 This will open the dialog box which lets you customize date and time settings. The 'Date and Time' tab allows you to set the correct date and time of you local clock. You can select a local timezone for the system clock. The 'Additional Clocks' tab lets you add two more clocks to your system tray. The 'Internet Time' tab is used to synchronize your local clock with the 'time.windows.com' on scheduled basis.
To add a new clock:
Check the box 'Show this clock'.
Select time zone for the clock.
Enter the display name of time zone instead of 'clock' so that it becomes readable.
Click 'Apply' and 'OK'.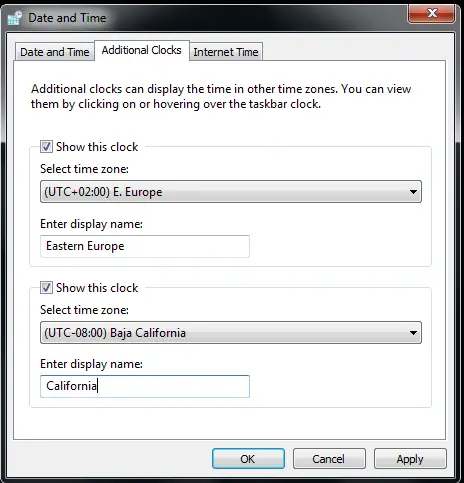 Move your cursor to 'date and time' in the tray to see the time of more clocks. Or click on it and you should see three clocks instead of one.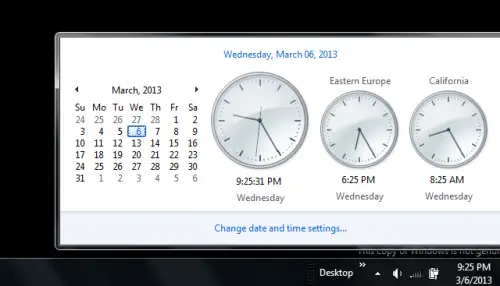 Add multiple clocks as Desktop gadgets
In the above mentioned trick, you have to move your cursor tip to the system tray when you want to see time. This may not sound very good if  you have to see the international times frequently. So, why not dock clock gadgets to your desktop and see the time instantly?  Windows 7 came with the concept of Desktop gadgets which is now removed in the Windows 8.
If you do not have gadgets on your Desktop in Windows 7 , type  'Desktop Gadgets'  in the search bar.
Or go to Control Panel -> Appearance and Personalization -> Desktop Gadgets -> Add Gadgets to Desktop.
Right click on the clock and select 'Add'.
You can add as many clocks as you want.
Now, set the time in the clocks to make your desktop look like an airport wall where multiple clocks are hanged showing time for different areas of the world.
Right click on the gadget.
Select Options.
Select the desired time zone and give a proper name to your clock.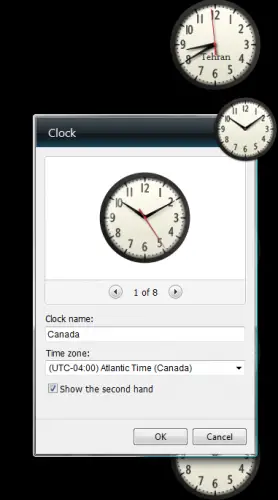 Once,  you are done with all the Desktop  gadgets, your desktop side bar should look like this.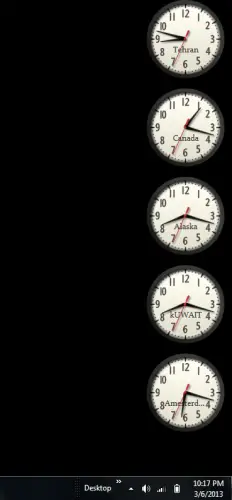 Add multiple digital clocks Desktop Gadgets
By default, the analog digital clock gadget is available in the desktop gadget list. However, you may prefer installing a digital clock as desktop gadget with some more customization options.
Go to Add Gadgets to download the set up of digital clock.
It is a zipped folder so extract the contents of this folder.
The unzipped folder will have the digital clock gadget.
Open and install.
Digital clock gadget is now docked to your Desktop. As obvious from the name, it shows the time in digital format. But this is not the only reason for installing it. Actually you can take advantage of a fully customizable clock if you install it. It allows you to add as many digital clocks as you want like you added before. It also allows you to set up the alarm at regular intervals, a specific time or even a count down.
Right click on the gadget and select 'Options'.
Here, you can set the date, time and their format.
If you scroll down a little, you will see the 'Count Down'.
Use this option to set any count downs.
Set it to play sound when the countdown ends.
Select the 'Sound' from the pre-defined list or add custom sound to it by selecting 'Custom'.
Adjust the sound volume according to your needs.
The interface is simple enough, and you can easily play with the options.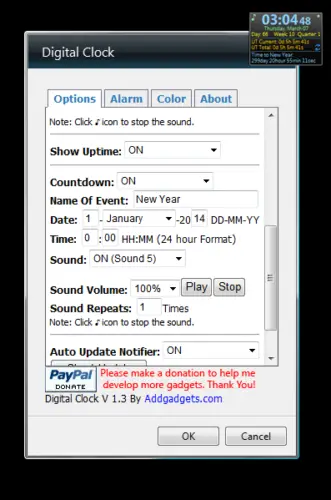 You may want to set the alarm on the digital clock to remind you of some meeting or task. This may be very helpful if you have a talk scheduled with an international client. Follow these steps to set alarm:
Select the 'Alarm' tab to set the alarm.
Set 'Alarm' to 'On'.
Set the time and select the days.
Now, select the alarm sound and set its volume level.
Did you find this article helpful? Or did we miss any thing? Leave your opinion and let us know if you have any questions in mind so that we can help you tackle the problem.