If you are not using a single password for every service, it is always difficult to remember different passwords for all the services. It becomes even more difficult when we try to create complex passwords for each of the service. In today's online world, having a secure password manager is very important because it can save all your passwords of all the accounts you have on any number of services. The advantage of password managers is that you don't have to remember passwords of all your accounts.
In my opinion, the must have features of a password manager should include encryption and portability. Strong encryption mechanism enables the password manager to secure the password database so that your passwords always remain safe and very difficult to hack. Portability is also important because we need passwords all the time. So running the password manager from the USB flash drive is always a good option.
Today I will discuss about 5 free and portable password managers. It's up to you to see which one is the best fit for you.
KeePass Password Safe
KeePass password safe is my most favorite portable utility which can save passwords and is fully compatible with any browser. It creates a database of passwords which can be taken anywhere you want. The database is encrypted so it can't be opened without the master password. You can also attach the database to a Windows account for more security but I don't recommend this if you want portability in your password manager.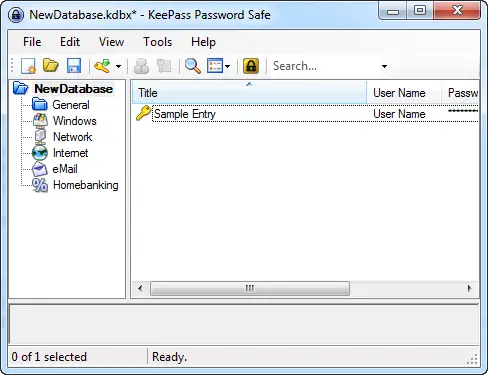 Another advantage of KeePass is that it includes a built in password generator. So you can generate a fairly complex password using the built in templates in the password generator.
Download KeePass password safe
RoboForm2Go
RoboForm2Go is another popular choice which is portable. Apart from usernames and passwords, it can save your contacts and bookmarks on the portable media. The only disadvantage of RoboForm2Go is that it asks for a removable media to install itself.
Please note that the current version of RoboForm2Go is compatible with browsers up to Internet Explorer 8 and Firefox 4.
KeyDb
KeyDb is a simple and light weight portable password manager very similar to KeePass. But it doesn't include more advanced functions like Windows account integration etc. The password file it creates has Rijndael 256 bit key encryption which is pretty safe. So you only need to remember the master password. All other passwords will only be accessible through the master password.
It makes use of categories in order to make it easy for the users to find their passwords.
nPassword
nPassword is another great password manager. It aims to be the all in one password manager which can integrate into any browser or program. The most interesting feature of nPassword is the keyboard hotkeys. One can easily configure nPassword such that whenever you want to use a username and password from nPassword database, you don't have to open the program again and again. But you can just press the hotkey (default is WinKey + X) and it will bring the password database on your cursor location.
Password Safe
Password Safe is another password manager which can save multiple passwords in multiple categories. Besides being free and portable, it is also open source. Like all other password managers, Password Safe also requires only one master password by which we can open the securely encrypted database of passwords.
Password Safe allows you to manage your old passwords and to easily and quickly generate, store, organize, retrieve, and use complex new passwords, using password policies that you control.
Other notable password managers
I have talked about the five best password managers above. Now I'm listing down all the password managers that I have found while writing this article. They are not necessarily portable or free but I'm listing down all of the ones I've found.
Logaway online password manager
Simple Password generates passwords for each site using a master password
LockCrypt an open source password manager
MobileWitch Safe Pass is a cross platform password manager
Almost all the password managers have similar features with some additional features unique to each one of them. I have tried my best to list all the password managers. If you find any other password manager that is not listed here, kindly tell me in the comments so that I may be able to add it in this list.