In this article we will review all the alternatives to Windows Explorer which comes installed by default in Windows. Windows Explorer is a program which is used to browse the files and data saved on the hard drive. Although I love Windows Explorer but it lacks a lot of features that other third party file managers provide for free. Windows Explorer has remained the same ever since the beginning and still there is no chance of any big improvement in the up coming version. So people with different needs will opt for different alternatives to Windows Explorer.
First we will discuss the free alternatives to Windows Explorer and then we will list down the commercial ones. Let's start will the freeware solutions first.
Free Alternatives To Windows Explorer
Explorer++
Explorer++ is a very popular file manager for Windows available for Windows XP and later Operating Systems. It features a completely portable configuration for easy relocation, tabbed browsing for easy management of multiple folders, navigation through keyboard shortcuts, drag and drop support and advanced file operations like merging and splitting of files.
FreeCommander
In addition to standard features, FreeCommander includes dual panel browsing both vertical and horizontal, treeview, a file viewer for viewing different types of files, built in archive handling and other several features that Windows Explorer lacks.
xplorer2
xplorer2 is another popular desktop file manager which combines the simplicity of Windows Explorer and the efficiency of dual pane file managers enabling you to be more productive with as little space and time as possible. xplorer2 Lite is a free version of the traditional xplorer2.
Far Manager
Far Manager is a free text based file manager and ideal for those who love to work with their keyboards instead of the mouse. It can be used for viewing files and directories, editing, copying and renaming files and other standard operations that Windows Explorer supports. Far Manager also supports FTP file operations. Far Manager functionality can be extended through the use of plugins.
muCommander
muCommander is a cross platform lightweight file manager with dual pane interface. It can run on any Operating System with Java support. It supports a large number of file systems including local volumes, FTP, SFTP, SMB, NFS, HTTP, Amazon S3, HDFS and Bonjour. muCommander has built in support for compression and archive operations. It is available in 23 languages.
Q-Dir
Q-Dir (Quad Explorer), as its name implies, has 4 explorer panes. It gives fast and easy access to local drive and the removable drives. Some of the features of Q-Dir include quick preview of files, printing of file details, internal file associations and fast editing and renaming of files.
Unreal Commander
Unreal Commander comes with two panel interface and UNICODE support. Its unique features include extended search of files, multi rename tool, synchronization of directories, support for archives like ZIP, RAR, ACE, CAB, JAR, TAR and many more, history and hotlist functions and visual styles.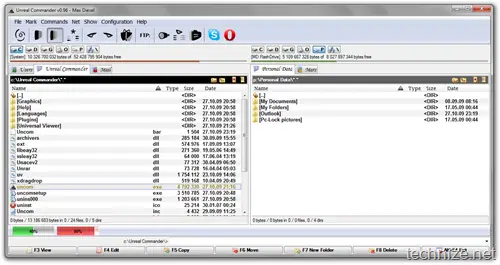 CubicExplorer
CubicExplorer is another file manager aimed to replace Windows Explorer. It strives to be easy and pleasant to use but still be powerful enough for more advanced usage. It features a tabbed interface with tree view.
Double Commander
Double Commander is an open source replacement for Windows Explorer. Some features of Double Commander include custom columns, tabbed interface, internal text editor, built in file viewer, archives handling and configurable button bar.
Nomad.NET
Nomad.NET is a powerful file manager written in .NET technology. It has full Unicode support, tabbed interface, powerful bookmarks system, improved search with powerful filtering and a better user interface than the traditional Windows Explorer
ExplorerXP
This is rather an old file manager which was built for Windows 2000 and Windows XP. ExplorerXP is very fast with tabbed interface very similar to Windows Explorer.
Emerge Desktop
Emerge Desktop is rather a complete shell for Windows, not just file explorer. It provides all the desktop and visual environment. It is open source and free and works on Windows 2000 and above.
UltraExplorer
UltraExplorer is another great file manager for Windows but recently while searching for the publisher's site, I was unable to find it so I will give an alternative download location. UltraExplorer is very similar to Windows Explorer. It just improve on Windows Explorer functions drastically.
I have already listed down some of the most popular free file managers that can serve as Windows Explorer alternatives. I'm listing down all other file managers that I know of with their download links.
NexusFile
Paid Commercial Alternatives To Windows Explorer
Although I have listed down almost all of the alternatives to Windows Explorer, they can also work in parallel with Windows Explorer so we can just keep on explorer for one type of work and the other for another type of work.
Have I missed any file manager? Kindly let me know through comments. Also tell me which one is your favorite file manager?