If a virus attacks on your Windows 7 PC and is successful, it will probably try to disable default Windows troubleshooting and monitoring functions like the task manager, command prompt, registry editor etc. This situation is really frustrating because one is not able to do anything to troubleshoot and remove or at least disable the virus infections.
7 Quick Fix is a small portable tool that provides 21 quick fixes to problems with Windows 7. Let's look at the features of 7 Quick Fix.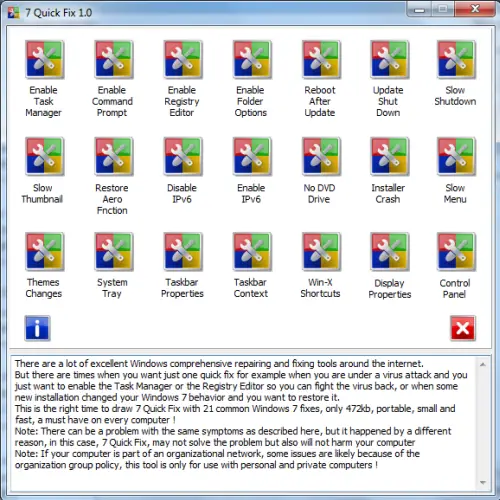 Enable Task Manager
Enable Command Prompt
Enable Registry Editor
Enable Folder Options
Reboot After Update (stops "You must restart for changes to take effect" after updates)
Update Shutdown (prevents updates hijacking sleep button when there are updates to do)
Show Shutdown
Slow Thumbnail
Restore Aero Function
Disable IPv6
Enable IPv6
No DVD Drive
Installer Crash
Slow Menu
Theme Changes (prevents themes changing cursors and desktop icons, but changes everything else)
System Tray (fixes missing system tray icons after updates)
Enable Taskbar Properties
Taskbar Context
Win-X Shortcuts (re-enables disabled Win-X shortcuts)
Display Properties (re-enables)
Control Panel (re-enables)
This utility is especially useful because it is portable and can be run from a USB drive. If you are a network/systems administrator then this utility is a must have for your USB first aid kit. Download 7 Quick Fix from here (464 KB).