Gmail provides a list of widgets to entertain its users and to make them more productive and organized using Gmail. The encouraging point about Gmail Widgets is that you do not need to search for them over the internet, rather they are available at your dashboard.
How to install a widget in Gmail
Go to the Settings
Select 'Labs' tab. Gmail labs are crazy experimental stuff, as called by the developers
Every gadget appears with its name, image, some description and the radio options of Enable/ Disable.
Select Enable
Find the 'Save Changes' button at the bottom of the page to make the settings effective
Add any gadget by URL
This is a very useful and handy gadget for the developers. You can add any gadget directly by specifying it URL.
Go to labs
Find the 'Add any gadget by URL' in the list
Select Enable and Save Changes
It adds a 'Gadgets' tab to the settings
Select the gadgets tab and enter desired URL
Embedding images insides emails
Did you feel annoyed when it comes to sharing an image with a friend through email? You can always share images by inserting them as 'Attachments' but it may lead to unambiguous messages. The default formatting toolbar does not allow you to embed any image in the email message, however, you can enable this feature by using 'Inserting Images' from the labs. Click on the 'Insert Images' button and browse through your computer to select the image.
By default toolbar
After installing 'Inserting Images'
Insert your display picture on Gmail chat
Gmail lets you chat with your friends from your Gmail inbox. Add more spice to your chat by displaying your profile image and viewing your friend's display picture in the chat box. Enable the 'Pictures in Chat' gadget from the Gmail experimental labs and view the profile pictures while you chat.

Quick Links
As obvious by the name, it adds links to the left side of your inbox. You can use Quick Links to add most frequently visited website or any web address given in the email message. You can also add any email as a Quick Link.
In the left pane, go to Quick Link.
If you want to add any email as link, open that email and select 'Add Quick Link'. It will assign a unique URL to email.
You can also add inbox, sent items, starred items or drafts etc as quick link.Go to inbox, sent items, starred items or drafts tab and select 'Add Quick Link'. This will add your selected tab as the Quick Link.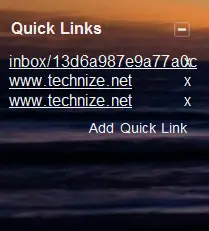 See recent emails
This is not any experimental gadget, rather it is a built-in feature of Gmail. When you read any email, you will see the sender name and profile picture in the right column. Below its picture, you will a link of 'Show Details'. Click on it and it will display the recent messages from the sender.

There are also many other widgets available in the laboratory like:
Mark As Read
It adds a 'Mark as Read' button in your inbox. Now you can mark your emails as being read without actually reading them.
Google Calendar Gadget
It adds a calendar in the left column. Add important events and meetings to this calendar,so you don't miss any important date.
Google Voice Player
This gadget lets you listen voice mails right from the email notification.
Undo Send
Undo Send is a helpful gadget for those who are always in a hurry. If you have pressed send button in hurry, click Undo Send to cancel the sending of email.
Google Docs Gadget
It is handy for the Google Drive Users as it displays your recent and starred docs.
Which gadget did you find most helpful? Do you use any other gadget to increase your productivity? Do share with us!