In a hurry? Download Thunderbird 9 from here.
Thunderbird is a fast, feature rich email client from Mozilla. It is a direct competitor to Microsoft Outlook. The functionality of Thunderbird can be greatly enhanced by using add-ons and extensions very much like Firefox. Along with Firefox 9 Final, Thunderbird 9 Final has also been released today.
If you already have Thunderbird installed, you can easily upgrade it to the latest version by going to Help –> About Thunderbird and clicking on Check for Updates button. This makes sure that you are running the latest version of Thunderbird.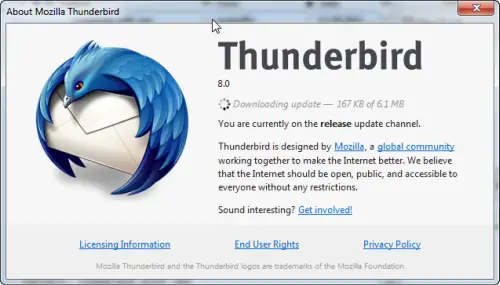 Otherwise you can easily download Thunderbird 9 from the link given here.
There have not been many visual changes in version 9. The Mozilla messaging team has rather concentrated on fixing bugs and enhancing the overall performance and responsiveness of the email client.
Thunderbird 9 now uses Mozilla Gecko 9 engine for feedback on memory and performance issues. All the issues reported through Gecko will be used to improved the future versions of Thunderbird. There is also an option to install Test-pilot extension which is used to give feedback about Thunderbird and Firefox usage to Mozilla and will help in improving new versions of both the apps.
When I upgraded my installation of Thunderbird 8, the only add-on that was not compatible with Thunderbird 9 was Lightening calendaring extension. I had to update Lightening to version 1.1 which was compatible with Thunderbird 9.
Additional support for Personas in composing and address book windows has been added. This means that you will be able to have your favorite look and feel when composing emails. To install new themes and personas, you may go to Tools –> Add-ons –> Get Add-ons and select "See all themes and Personas" under More ways to customize. My theme of choice is Silvermel which is compatible with Thunderbird 9.
Let's go through the new features added in Thunderbird 9:
Thunderbird is based on the new Mozilla Gecko 9 engine
New opt-in system for users to send performance and usability data back to Mozilla to improve future versions of Thunderbird
Additional support for Personas in the compose and address book windows
Better keyboard handling for attachments
Windows users can hide the menu bar (and show it with the "alt" key)
Download Thunderbird 9